Let your friend know about Bombastic Life
Friend's name

Friend's email address

Your name

Your email address

Your note



Cafe Lilou - Adliya, Bahrain
Excellent French-influenced fare in a sophisticated café setting
Restaurant Category : Cafe, French
Cafe Lilou is a Parisian-style cafe located in the hip and trendy Adliya area in Bahrain. Open from 8 a.m. to 11 p.m., this sophisticated café offers an extensive French-influenced menu of soups, salads, sandwiches, cakes, pastries and more.

Share this review on Facebook.

Café Lilou has a décor that is reminiscent of a turn of the century Parisian brasserie with its velvet couches, red-tasseled curtains and gold-gilded frames. The café has an upstairs balcony that is done up in velvet upholstery and polished wooden floors. The banisters leading up to the balcony are made of wrought-iron.

The comfortable couches at Café Lilou make it a great spot to settle in for a leisurely cup of coffee or tea. Their tea list is HUGE! A huge glass cabinet displays a mouth-watering array of freshly made cakes and pastries. After sampling a piece of the pistachio cake, I was convinced that these sweets taste as good as they look.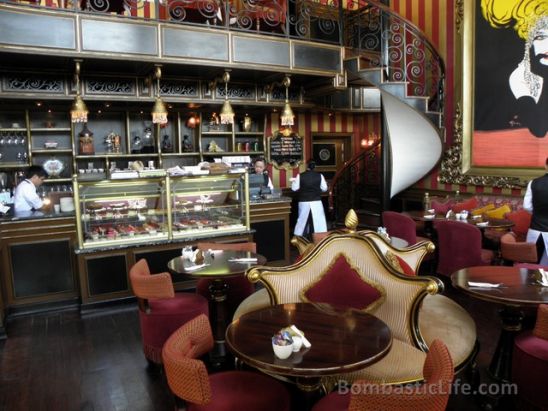 I reached Café Lilou after visiting Coco's (click here to read our review) (which failed to deliver my order even after 45 minutes). I was famished to say the least. Though the extensive menu made it very difficult to pick just one item, I finally chose the Brioche Surprise. Priced at BD. 3.500 ($9.30 US), the Brioche Surprise was described in the menu as 'melt in your mouth' beef burgers filled with mushrooms and grantinated with cheddar cheese, placed on a bed of avocado and a horseradish sour cream chive sauce and served with delicate matchstick fries and a crunchy green salad topped with crispy onions. My order was served in record time and to my pleasant surprise, exceeded my expectations. The three mini burgers were juicy and full of wonderful flavor. Moreover, the fries were tasty and the side salad was very fresh. Simply great!

Breakfast is served at Café Lilou from 8 a.m. to 11:30 a.m. and usually consists of a fresh fruit salad, freshly baked croissants, waffles, brioches and muffins. If you are ordering a sandwich there is a variety of bread and fillings to choose from. A fine selection of desserts, milk shakes, fresh juices, coffee and tea are also available at this café.

Service at Café Lilou was attentive. The clientele consisted of high-end Bahrainis and expats. Overall, Café Lilou is definitely a place I would go back again and again, both for its Gallic charm and for its excellent French-café fare. Bombastic!

What I liked: The chic Parisian-style décor and the fantastic food

What I didn't like: Absolutely nothing at all

Rating: Bombastic

Address and Telephone Number:
Café Lilou
Adliya, Bahrain
Tel: +973 1771 4440

Join us on Facebook!
5 Star and Luxury Hotel, Resort,
Restaurant, Airline and Travel Reviews,
Advice and Information - Independent and Unbiased

Share this article: