Let your friend know about Bombastic Life
Friend's name

Friend's email address

Your name

Your email address

Your note



The Charles Restaurant - Niagara-on-the-Lake, ON -- Page Three
After our last course it was time for the cheese plate. Loving our cheeses, especially some of the local and Quebec cheeses, we were looking forward to this course. But, to our dismay, the Cheese plate had just one type of cheese along a few grapes along with crackers. I was expecting something a little more exciting.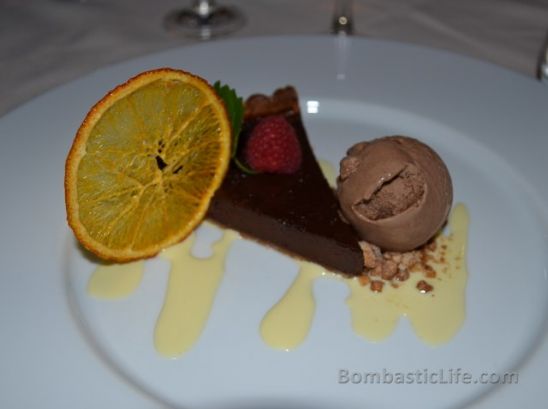 For dessert, we were served a Rich Chocolate Tart with chocolate hazelnut ice cream, orange crème anglaise, toasted hazelnuts and candied orange chip. Though we were satisfied with this dessert, we were not exactly overjoyed. Had we known the dessert was going to be chocolate we would have asked for something else since we are not that into chocolate. It's not that there was anything wrong with it, it just was not something we'd typically order.

Service at The Charles Restaurant was top notch throughout the evening. By the time dessert was served, it had become very chilly outside. Since a table had opened up inside, we were able to finish our dinner in the dining room. The wine pairings were generous and in all cases (except one) matched with the food served. The best seats on the verandah are table 64 (for four people) or table 65 for two people. These tables give the best views of the adjacent golf course and the summer sunsets.

Jasmine, our waitress was highly efficient. Even though we were the only people dining on the verandah we never felt ignored or forgotten. Seeing they had a full house inside, that says a lot about her skills and abilities. Though there were a couple of dishes we didn't like, the overall experience right from the ambiance and service to the food and wine gives The Charles Restaurant a solid Bombastic rating from us.

What I liked: The House Smoked Arctic Char, Tagliatelle, Grilled Tenderloin, service, portion sizes, ambiance.

What I didn't like: A couple dishes, but the overall experience more than made up for them.

Rating: Bombastic

Address and Telephone Number:
The Charles Inn Restaurant
209 Queen St
Niagara-on-the-Lake, ON L0S 1J0
Phone: (905) 468-4588
Join us on Facebook!
5 Star and Luxury Hotel, Resort,
Restaurant, Airline and Travel Reviews,
Advice and Information - Independent and Unbiased
Share this article: