Let your friend know about Bombastic Life
Friend's name

Friend's email address

Your name

Your email address

Your note



Centro - Toronto, ON
Didn't quite live up to its potential
Restaurant Category : American (New)
Centro – Toronto, ON: Centro Restaurant and Lounge is an upmarket restaurant in Toronto that serves the New American cuisine. Located in the upscale Yonge and Eglinton neighborhood in Toronto, this restaurant serves Italian, French and Asian dishes. Reservations are a must at this popular fine dining restaurant.

Share this review on Facebook.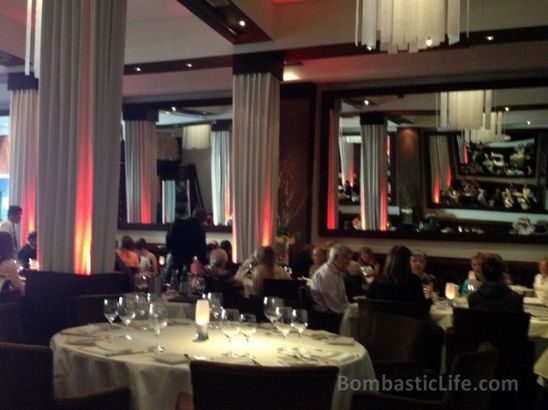 We were at Centro for a spontaneous dinner on a weekday. Owned by Armando Mano, this fine dining Toronto restaurant features 20 foot ceilings, massive mirrors, showpiece chandeliers and brown-suede chairs and banquettes. This huge 138 seat restaurant also offers four private rooms and a lounge downstairs.

We were handed the menu as soon as we had made ourselves comfortable. We could see that a lot of waiters were busy running around and taking care of guests. The menu offered a nice selection of appetizers and pasta. Some of the dishes that caught our attention were Tuna Crudo and House-Made Charcuterie Board among the appetizers and Squid Ink Fazzoletti among the pasta section.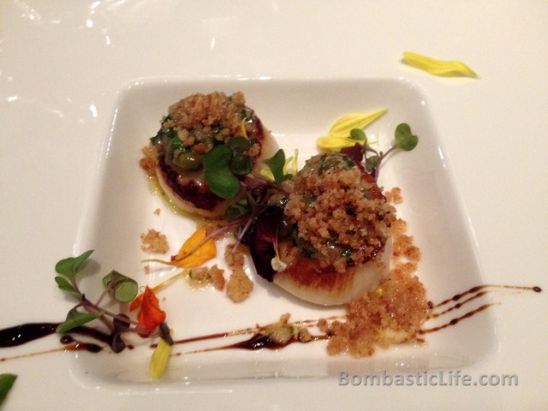 We started our dinner with the night special of scallops. They were delicate and very flavorful, a pretty good start to our experience.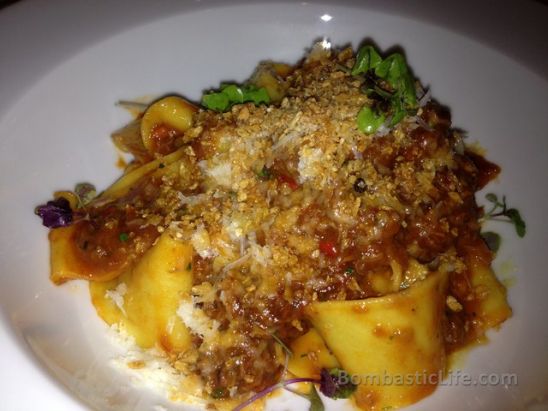 My pasta course was a revelation as well. What I thought was going to be an ordinary Pappardelle Bolognese was a big, gorgeous bowl of heaven when served! Delicious would be an understatement in this case.

For the main course, I opted for the the Rack of Lamb with panko (bread crumbs), herb and honey-mustard crust polenta cake, purple kale and roasted vine tomato while my partner chose the Chilean Sea Bass with chorizo and asparagus with sherry infused olive oil, tomato chutney and crispy spaetzle (small dumplings ). Prized at $45, the Rack of Lamb was fair at best. I ordered it medium rare but it was served medium. I was going to send it back but it took so long to get it in the first place that I decided to just keep it. It was average tasting at best. The flavors of the polenta and kale were dull and didn't add any dimension to the dish. My partner had better luck with his Sea Bass. The chorizo added a nice kick and it was a nice dish in hindsight. But was it the best sea bass I've ever tasted? No.

Service was adequate at Centro. Our table was placed next to the kitchen door and this definitely had an adverse effect on our experience as we saw a steady flow of wait staff and workers going back and forth in front of us all through the night.

Overall, Centro is a very classy looking restaurant. However, our experience at Centro was mixed, some good, some not so good. We are going with an Almost Bombastic rating for this fine dining Toronto restaurant.

What I liked: The décor

What I didn't like: some of the dishes were average at best

Rating: Almost Bombastic

Address and Telephone Number:
Centro Restaurant & Lounge
2472 Yonge St
Toronto, ON M4P 2H5
Phone: (416) 483-2211

Join us on Facebook!
5 Star and Luxury Hotel, Resort,
Restaurant, Airline and Travel Reviews,
Advice and Information - Independent and Unbiased
Share this article: