Let your friend know about Bombastic Life
Friend's name

Friend's email address

Your name

Your email address

Your note



You are here: Home > Places > Canada

> Toronto

> Corner Cafe and Bistro at The Drake Hotel - Toronto, ON
Corner Cafe and Bistro at The Drake Hotel - Toronto, ON
Neat Atmosphere but Dull Brunch
Restaurant Category : Breakfast/Brunch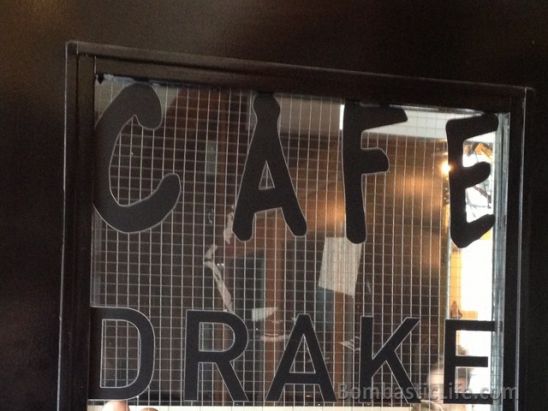 The Corner Café and Bistro at the Drake Hotel in Toronto is bustling with locals and tourists at all times of the day. Open daily, this café also offers free Wi-Fi. This bistro is said to be one of the best places for brunch in Toronto.

Share this review on Facebook.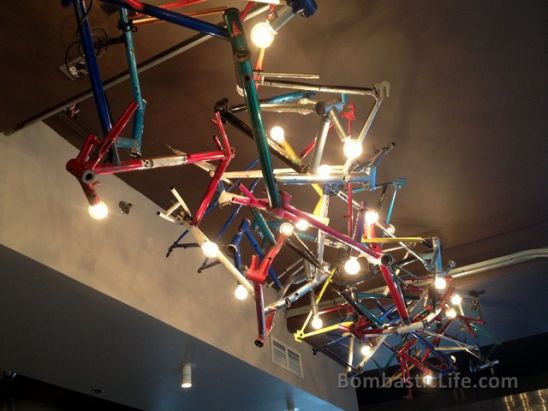 We are always on the lookout for a great brunch spot in Toronto. So we decided to head over to the Drake Hotel and try the Corner Café and Bistro after hearing so much about the brunch served here. We tried to make reservations but they said reservations are taken only for a group of seven or more. We arrived at this café early at around 10.00 AM on a Sunday and the place was already about half full. In fact, the café was pretty much packed by 11.00 AM. A small diner, this café gave me a distinct bohemian feeling. This café also had a nice patio which is open during warmer months.

The menu, though small, had a nice selection. I opted for the Scrambled Burrito while my partner decided on Eggs Benedict. We started off with a fresh fruit plate bowl. Priced at $4.50, the portion size was meager. I found it to be way overpriced.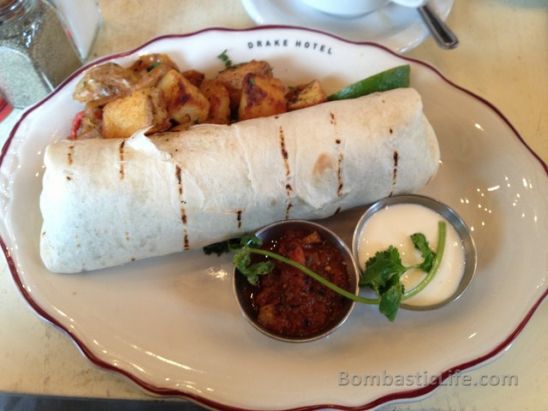 The Scrambled Burrito was made up of scrambled eggs, jalapeno jack, peppers, onions, avocado and stewed black beans rolled in a grilled tortilla. Home fries, sour cream and salsa were served as sides. An option for a sausage was also available. I would highly recommend diners to add the sausage since the Scrambled Burrito was dull and boring. I was thankful that I had opted for the additional sausage as it would have been downright bad without it. Both the salsa and the sour cream were dull. Come to think of it, the whole dish including the home fries was just barely adequate.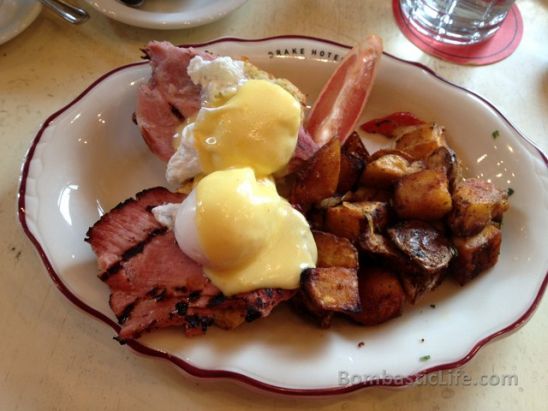 My partner didn't have much luck with his dish either. The Eggs Benedict consisting of 2 poached eggs and hand carved country style ham on cheddar biscuit with a side of hollandaise sauce with home fries was just as dull. Both the dishes were so uninspiring that neither of us could finish them.



Service at the Corner Café and Bistro was attentive. Moreover, we totally loved the nice laid back vibe. Sadly, the food just did not measure up. I know I won't be going back to this place for brunch, but I may be willing to go back for lunch on the patio since it looked like a nice place to hang out.

However, as far as our brunch experience goes, this b>Corner Café and Bistro only gets a rating of Almost Not Bombastic from us. In fact, after we left here we headed over to Weslodge which has become one of our favorite places for brunch in Toronto.

What I liked: The laid back atmosphere

What I didn't like: The food

Rating: Almost Not Bombastic

Address and Telephone Number:
Corner Café and Bistro
Drake Hotel
1150 Queen St W
Toronto, ON M6J 1J3
Phone: (416) 531-5042

Join us on Facebook!
5 Star and Luxury Hotel, Resort,
Restaurant, Airline and Travel Reviews,
Advice and Information - Independent and Unbiased
Share this article: