Let your friend know about Bombastic Life
Friend's name

Friend's email address

Your name

Your email address

Your note



George Restaurant - Toronto, ON
Amazing Food and Atmosphere = Bombastic!
Restaurant Category : Canadian
George Restaurant - Toronto, ON: George Restaurant is located on Queen Street E in Toronto. This restaurant serves International and Canadian cuisine and is situated in a former 1850s chocolate factory. Led by executive chef Lorenzo Loseto and a qualified team of sommeliers, this restaurant has won an army of awards. The most recent of these are "Diner's Choice Awards in Three Categories: Best Overall, Best Food, Best Ambiance" from Open Table in 2013 and "Extraordinary to Perfection for Food and Service" from Zagat in 2012.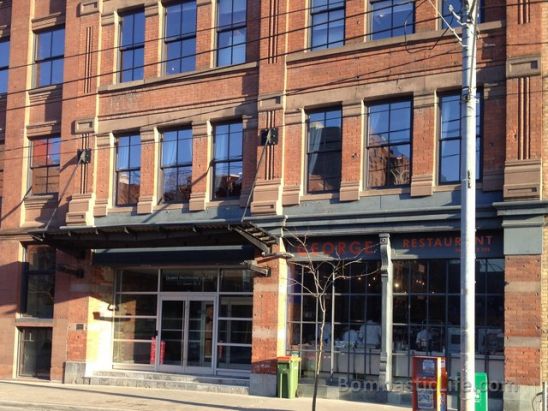 Share this review on Facebook.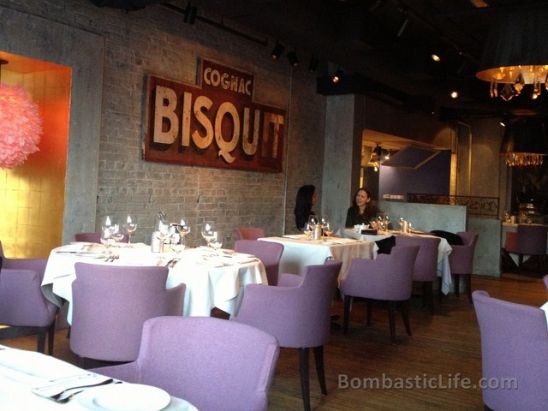 The décor at George Restaurant was beautiful beyond words. Antique French doors, brick walls, high ceilings, crystal chandeliers, comfortable booths and violet colored chairs gave this restaurant a stylish yet unique interior. This is easily one of best restaurants in Toronto in terms of décor and style. A gorgeous secluded patio is also available here. We had heard of George from a friend and thought it was a new restaurant, but we found out later that this restaurant had actually opened way back in 2004. According to our server for the night, George Restaurant "flies below the radar". This must be why we had never heard of it even though we visit Toronto regularly.

George restaurant offers five course ($99), seven course ($125) or ten course ($140) tasting menus in addition to the regular a la carte menu. These tasting menus are "blind" in the sense that the chef chooses what each course will be and you will not know what you are having until it is served. When a couple orders a tasting menu, each person will get a different dish. This is a great way to taste a wide range of what this restaurant has to offer. On the other hand, the a la carte menu was divided into first, second and third courses. We were informed that the portions were rather small and that we'd easily be able to eat three courses and dessert without any issues.

We started off with a cocktail as we looked over the menu. I had a Bloody Caesar which was easily the best Caesar I've had in Toronto in a very long time. It was indeed lip smacking good! My partner's gin and tea drink was almost as good. Fresh bread was delivered shortly thereafter and after a bite of their homemade bread I was worried if I might fill up on the bread alone, it was just that good. We finally got around to placing our order for three courses each and a bottle of Rockford Basket Press Shiraz from Barossa Valley, Australia to have with our meal. Each course offered four items. The items we did not select were Duck Breast with pecan coleslaw and navy bean and Wagyu Beef with carrot mustard and crispy potato from the first course, Rabbit Confit, black trumpets and salsa Verde and Black Cod with cashew crust and roasted beets from the second course and Steel Head Trout with horseradish crumble and soft polenta and Wild Bass, lobster cavatelli and mint yogurt from the third course.

Review of George Restaurant continues, click here.
Share this article: