Let your friend know about Bombastic Life
Friend's name

Friend's email address

Your name

Your email address

Your note


JaBistro Modern Japanese Restaurant - Toronto, ON
Chic and Trendy, but Below Par Food
Restaurant Category : Japanese, Sushi
JaBistro Modern Japanese Restaurant - Toronto, ON Listed as one of the top new restaurants in Toronto in the April 2013 edition of Toronto Life magazine, JaBistro was on our radar as a must visit, review and add to our other Toronto reviews on our site.

Share this review on Facebook.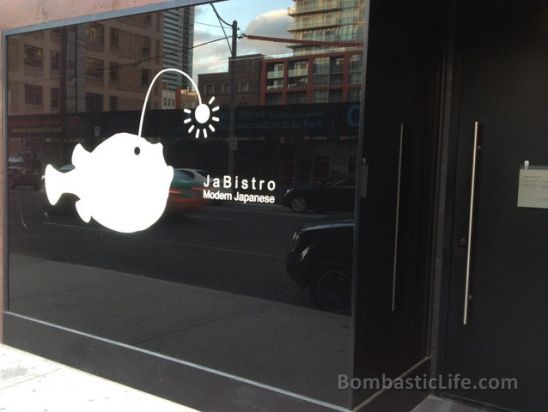 We called on a Tuesday afternoon and made reservations for later that evening. Thanks to the picture of their mascot, Ar-chan, the footballfish, on the front window, we easily found JaBistro on Richmond Street just west of University Avenue in the Entertainment District. Street side parking was available just across the street from JaBistro.

As we entered JaBistro there were two things that immediately hit our senses; an overpowering smell of fish (a fish market came to mind, and not in a good way) for our noses and a gorgeous, uber trendy designed restaurant for our eyes.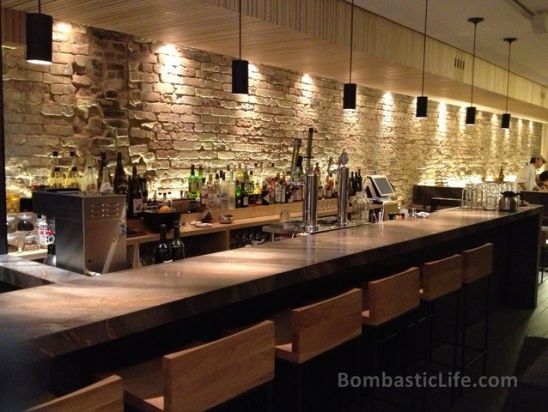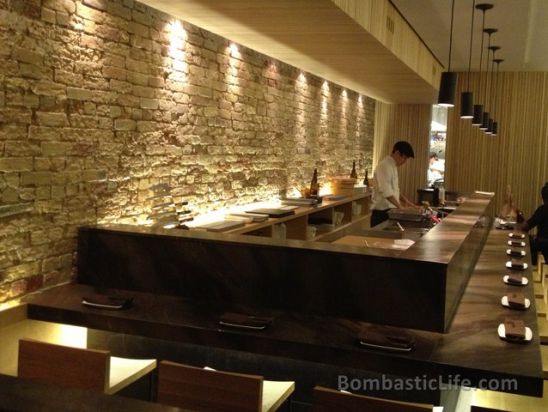 Exposed brick walls, a super sleek stone bar and sushi bar and tall, low-back bar stools graced one side of JaBistro. On the other side was a long, upholstered bench against the wall, with a slew of two-top tables that could easily be moved to accommodate parties for two or four or even more. The low set chairs were just as trendy as the rest of the place, but luckily they were still quite comfy. Jazz music played overhead giving JaBistro a nice vibe.

We were shown to our seat promptly, and once seated we were quickly greeted and offered a drink or water, to which we ordered water. A few minutes later we were greeted again and offered a drink or water by a different server. We explained that someone had already taken our order but we had questions about the menu. She made a joke about the duplication of greetings and drink/water requests and went on give us a stellar review of the menu and her suggestions for what to order.

The menu was rather small, with sashimi sampler or platter options, carpaccio of the day (that day it was Hamachi), seven different kinds of sushi rolls and in their Bistro section items like salad, beef tartar, batter shrimp, soft shell crab, battered chicken and pork loin.

As we were looking over the menu, a third person came to us and asked us if we were ready to order. We had been there ten minutes and already on our third server! Everyone had been nice, but it would have been good to know who actually was responsible for our table.

Nonetheless, we placed our order; a $50 sashimi platter, the carpaccio of the day, and the Aburicious Roll (two pieces of the ebi (tiger shrimp), saba (cured mackerel) roll, salmon roll and the JaBristroll (salmon, snow crab, uni and cucumber rolled in tobiko) roll.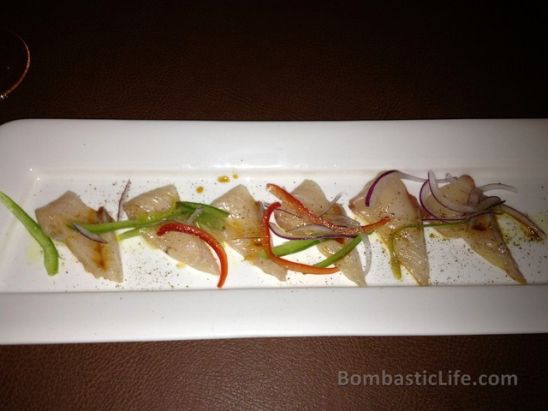 First to make it to our small table was the carpaccio of the day (Hamachi/yellowtail). Lightly seasoned with soy sauce and thin strips of peppers and onions, the carpaccio at JaBistro was just average and a tad fishy. There was nothing stellar about it.



Next up was our $50 sashimi platter which had a big array of fish including three different cuts of Bluefin Tuna (loin, medium fatty belly and fatty belly), Kapachi (amberjack), Hamachi (yellowtail), Tai (sea bream), Anago (sea eel) terrine, lobster and Ankimo "fish foie gras" with monkfish liver. The presentation of the sashimi on a large slate plate was interesting. Part of me thought chic, part of me thought haphazard. The fish ranged from decent (salmon and Kapachi) to too fishy (regular tuna and Hamachi). It was evident that some of the fish was not all that fresh. Maybe that explained the smell? The house made fish foie gras was interesting. I never thought I'd try fish liver, but I was happy I did.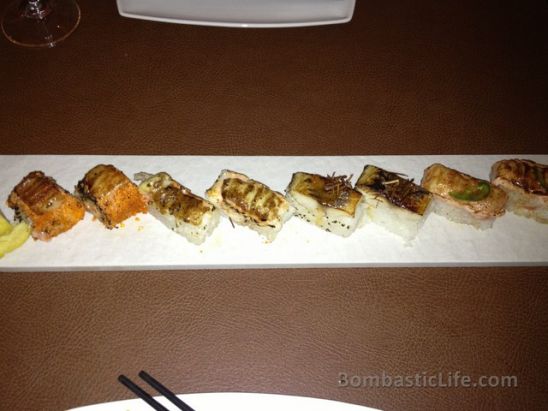 Our last dish of the evening was the Aburicious, a sampling of four rolls. The presentation was decent, we liked the square cut of the rolls, but we can honestly say we've seen more impressive presentations, but we were here for good sushi too, not just to look.

Across the board, the rolls were fair. The chef at JaBistro has opted to torch (with a flame torch) all the sushi rolls. For us, this was not a positive for the rolls; it masked the taste of the fish. We would have much rather had really fresh fish and not have the taste compromised. For us the other negative was the consistency and the amount of the rice; it was a bit too mushy and just too much of it. As far as the four rolls, our favorite was the ebi and the other three just sufficed.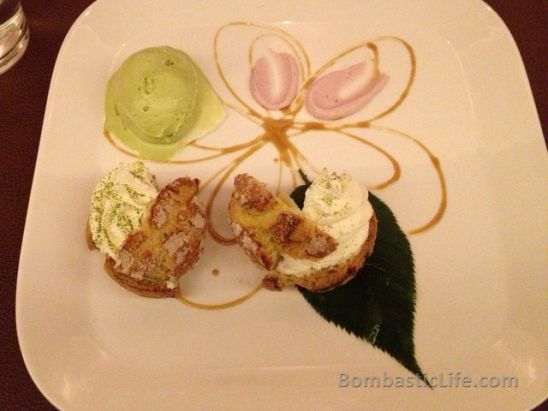 For dessert we had the Sakura Puff, a cherry blossom puff pastry, read bean custard cream and green tea ice cream. This is one dish that JaBistro hit a home run with. A beautiful presentation and just as wonderful tasting! Bravo! The Choya plum wine that our server recommended, did not do justice to the dessert.

Overall, our dinner at JaBistro was pleasant. Service while confusing at the beginning was quite attentive. We loved the design and atmosphere, but the food failed to reach our expectations. With it being rated one of the top ten new restaurants in Toronto, we expected more. With a bill of over $220 (which included a couple glasses of wine and a $30 corkage fee), we didn't walk away impressed.

Is it a place we would go back to? Maybe, maybe not. Our rating for JaBistro is just barely Almost Bombastic.

What I liked: Atmosphere, service, Sakura Puff dessert

What I didn't like: Most of the sushi and sashimi

Rating: Almost Bombastic (but just points from Almost Not Bombastic)

Address and Telephone Number:
JaBistro
222 Richmond Street
Toronto, ON
M5V 1W4
647-748-0222
Join us on Facebook!
5 Star and Luxury Hotel, Resort,
Restaurant, Airline and Travel Reviews,
Advice and Information - Independent and Unbiased
Share this article: