Let your friend know about Bombastic Life
Friend's name

Friend's email address

Your name

Your email address

Your note



Kaji Japanese Cuisine - Toronto, ON
A Great Experience, Just Not What We Expected
Restaurant Category : Japanese, Sushi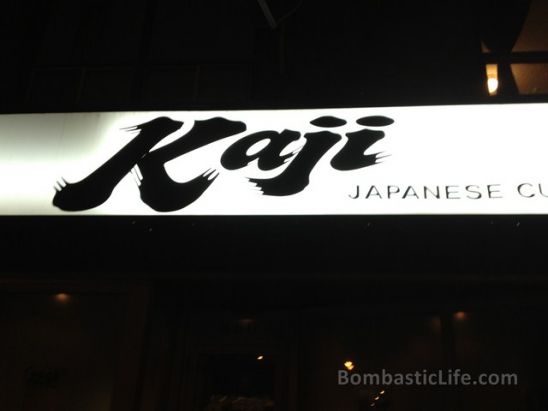 Sushi Kaji –Toronto, ON: Sushi Kaji is located in Etobicoke on the Queensway between Royal York Road and Islington Avenue in Toronto. Though situated in an unimpressive strip mall, this restaurant is hugely popular among sushi lovers. Reservations are a must since seating is limited and this place does get insanely busy.

Share this review on Facebook.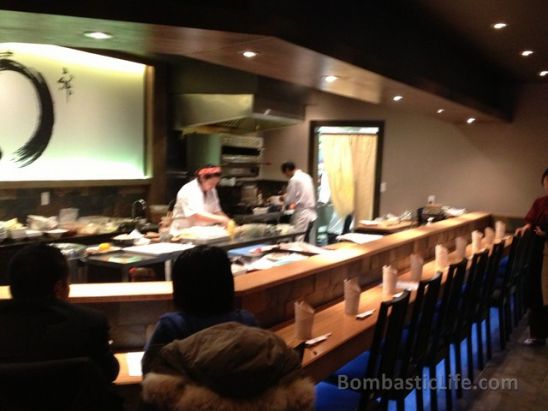 We had been hearing a lot about Sushi Kaji for over a year and finally decided to try it for ourselves. We booked a week in advance since only a single seating is up for grabs daily. We arrived at Sushi Kaji at 7:30pm sharp and found the place already half full. The décor was a little trendier than I was expecting, especially after the plain sign out front and the non-descript building this restaurant is situated in. The restaurant was made up of an L shaped bar in the middle with seating along the front of the restaurant and on the side. The walls were decorated with a number of murals of Japanese calligraphy.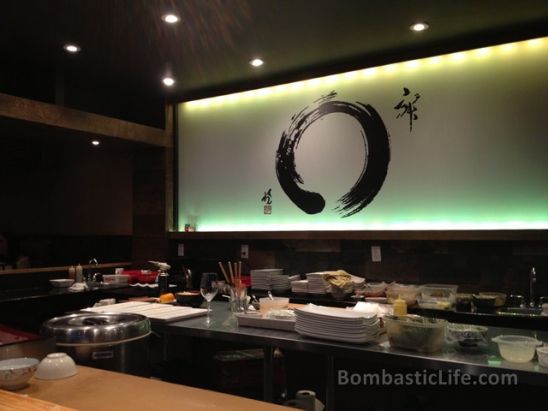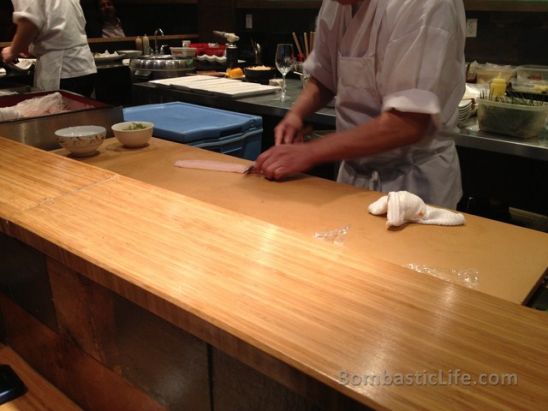 We had requested a seat at the bar when we had made the reservation since we were keen on experiencing the restaurant from a vantage point and we also wanted to watch Chef Mitsuhiro Kaji at work. We had done this many a time in Tokyo and had really liked the interaction we had with the chefs during these visits. We were really looking forward to the same experience here at Sushi Kaji.

We had a look at the menu as soon as we were settled in. Sushi Kaji offered two tasting menus, Takumi for $120 and Waza for $100. Since we had heard so much about this place, we decided to go all out and splurge and selected the Takumi menu.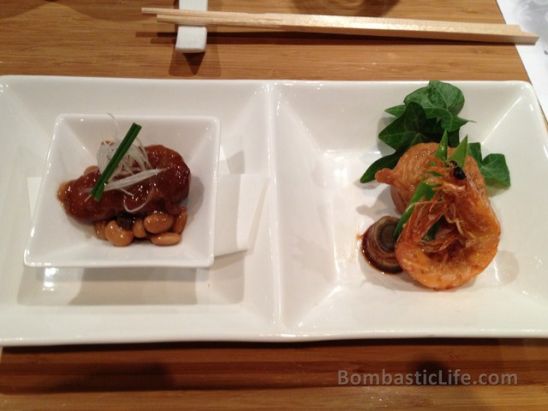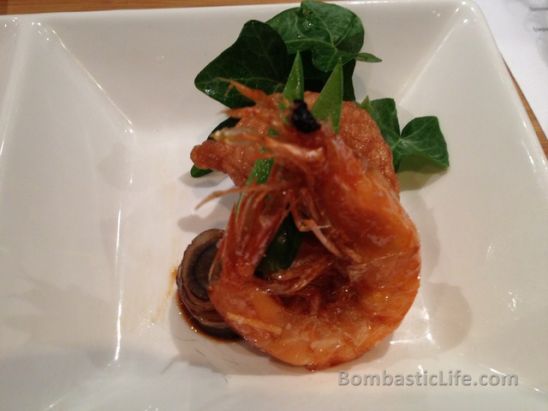 We started off with a simmered flounder soup and followed it up by Simmer Duck and Deep Fried Shrimp and Fish Cake, Fluke Sunomono with sesame sauce, Steamed Turnip Stuffed with White Fish with Bonito Sauce and Lobster Tempura with Vegetable Tempura .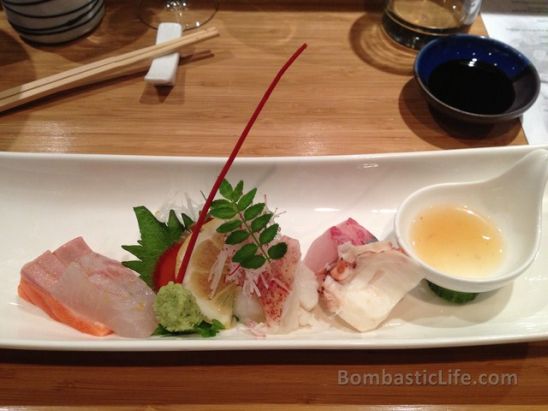 The Sashimi consisted of Ocean Trout, Sea Bream, Lobster, Octopus and Spanish Mackerel.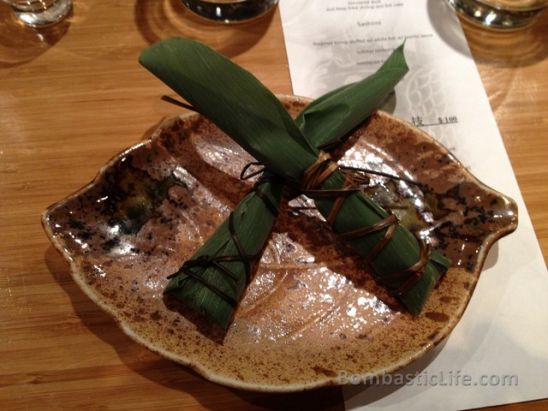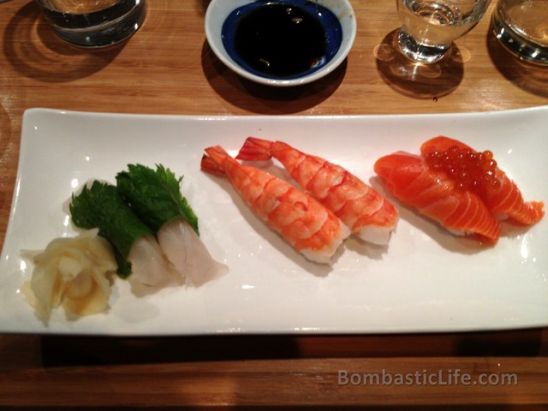 For the sushi course, we had fresh water eel wrapped in a green leaf and then Lobster, Scallop and Tuna followed by Fluke, Shrimp and Ocean trout.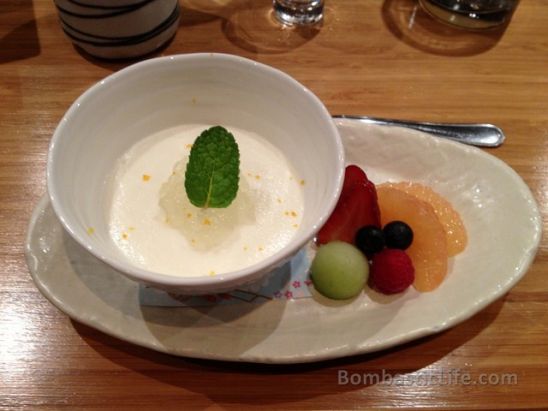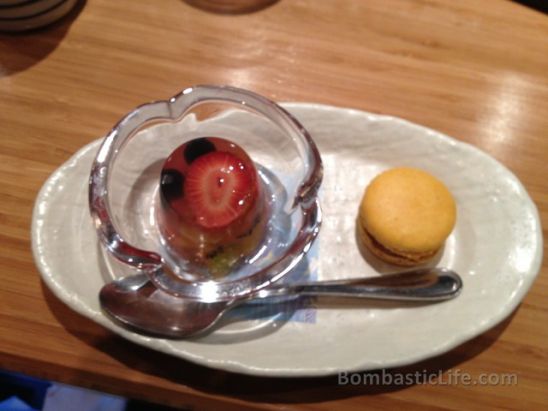 For dessert, my partner was given crème brulée while I had gelatin and a macaron. Each dish was presented with a flourish. The plating was exquisite and pleasing to the eyes. The flavors were clean and fresh, but the creme brulee was by far the better of the two.

The food was delicious, but unlike the top sushi restaurants in Tokyo where they serve a lot of sashimi, Sushi Kaji served up much more sushi than sashimi. Moreover, the sashimi served consisted of small pieces. During the dinner, Chef Kaji didn't talk to us at all. Though he was only a few steps away, he didn't even acknowledge us until half way through the dinner. This was totally unlike the lovely experiences we have had in Tokyo and New York.

Overall, we had a good dinner, but it wasn't as special as we were expecting it to be since Sushi Kaji is known by many as the best place for sushi in Toronto. We ended up eating a whole lot more rice than we had bargained for (I assume they use rice to fill the diners up). Also, the flow of the meal was on the fast side making me wonder whether we were being rushed. Am I happy I visited Sushi Kaji? Yes. After hearing about Kaji for so long, we just had to try it. Is it a place I would go back given a chance? No, I found it definitely over-priced considering the portions. Our rating for Sushi Kaji is Almost Bombastic.

What I liked: The beautiful presentation of the dishes

What I didn't like: The price and the portions

Rating: Almost Bombastic

Address and Telephone Number:
Sushi Kaji
860 The Queensway
Etobicoke, ON M8Z 1N7
Phone: (416) 252-2166

Join us on Facebook!
5 Star and Luxury Hotel, Resort,
Restaurant, Airline and Travel Reviews,
Advice and Information - Independent and Unbiased
Share this article: