Let your friend know about Bombastic Life
Friend's name

Friend's email address

Your name

Your email address

Your note



Le Germain - Toronto, ON
Reasonable Prices, Super Service = Bombastic!
Le Germain - Toronto, ON: Conveniently located in the heart of the Toronto's popular entertainment district, Le Germain is part of the Germain Group of hotels, with other locations in Calgary, Montreal, and Quebec.

Share this review on Facebook.

First Impression/Lobby: Upon arrival, we were quickly met at the car by the bellman/valet who just as quickly unloaded our bags, escorted us inside, and then disappeared to take care of the car. Being greeted by well-trained and attentive staff definitely made a positive first impression on us.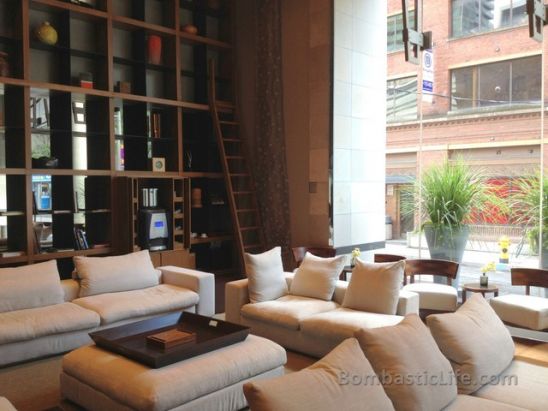 The lobby, with its high ceilings and minimalist approach to décor, can only be described as both modern and elegant. The interior was made up of mostly wood and glass. As boutique hotels go, Le Germain was very comfortable, and at the same time, quite chic.

Reception: Le Germain is known for their service, and in this area the hotel certainly lived up to its name. Every staff member we encountered was warm and welcoming. We really felt like we were in a luxury, boutique hotel that was service-oriented and pleased to have our business.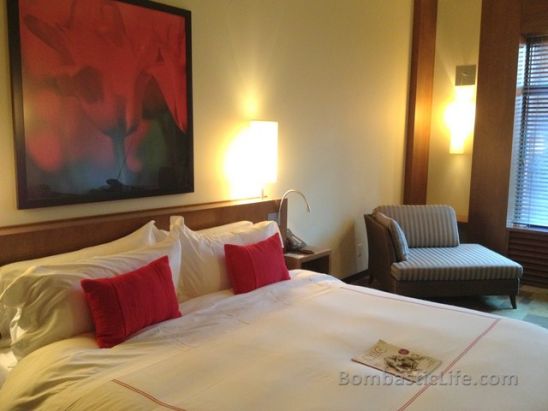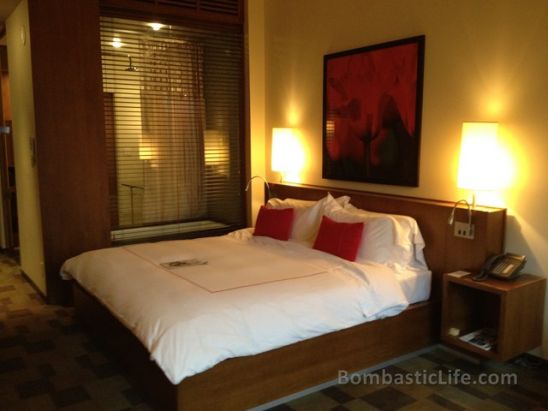 The Room: In keeping with the modern and elegant feel of the hotel, our room's interior was accented with warm wood furnishings, where neither function nor comfort was spared. We were impressed by the attention to detail: From the luxurious toiletries to the size and placement of the windows, it seemed each element was well thought out.

The glass wall between our bathroom and bedroom made the bathroom feel much larger than it was. And the blind on the wall made it simple to have privacy when wanted.

Overall, the room just had a very good vibe to it.

Room Service: Since our stay at Le Germain was somewhat short, we opted to dine out and experience Toronto's culinary scene. Unfortunately, we weren't able to experience their room service. (Click here to see our Toronto reviews.)

Housekeeping: For the duration of our stay, we can say housekeeping was excellent in all aspects. Our room was always impeccably made up whenever we arrived. The toiletries were always replaced with new ones. Suffice to say, each time we arrived felt like we had just checked in to new room.

Concierge: The concierge was not there all the time. But between the concierge and the front desk staff, we were given some great restaurant recommendations like Blu and Wes Lodge.

Restaurant: Victor Restaurant and Lounge in Le Germain is headed by Executive Chef David Chrystian - who is recognized as on of Toronto's top 10 chefs, not to mention a contestant in Top Chef Canada. Victor Restaurant and Lounge serves family-style dishes: large servings that allow for more social interaction.

Pool/Spa/Activities: Le Germain's has a library with a fireplace and complimentary cappuccino bar. They have a computer with internet access in the library, which we thought was very convenient. The hotel also has a massage room, but because of lack of time, we were able to try this service.

Check-Out: Just like when we checked in, our check out experience was also warm and professional. The bags were quickly taken to our waiting car and we were immediately on our way.

Overall Impression: All aspects of the hotel passed our standards. The staff was amazing, the room was very comfortable and sharp, especially for the price. The location of the hotel is perfect.

There really wasn't anything I would change about the hotel. For the price, we could not have asked for anything more. Le Germain Toronto gets a solid rating of Bombastic!

Join us on Facebook!
5 Star and Luxury Hotel, Resort,
Restaurant, Airline and Travel Reviews,
Advice and Information - Independent and Unbiased

Share this article: