Let your friend know about Bombastic Life
Friend's name

Friend's email address

Your name

Your email address

Your note



Scarpetta Italian Restaurant – Toronto, ON
Easily one of the best Italian restaurants in Toronto
Restaurant Category : Italian
Scarpetta Italian Restaurant - Toronto, ON: Located in the trendy Thompson Hotel in King Street West Village is Scarpetta Italian restaurant by celebrity chef Scott Conant. Chef Conant has been a judge at Chopped on the Food Network and been on many other national TV shows.

To start with, we are not typically big fans of "celebrity chefs'" restaurants since we feel "that something special" the chef has, gets lost when they have too many restaurants (there are Scarpetta restaurants in New York, Miami, Beverly Hills and Las Vegas), but we decided to give Scarpetta a try nevertheless. We were hoping for good Italian fare, and honestly, we really were not expecting much more.

Share this review on Facebook.

We made reservations on a Thursday afternoon for dinner that same evening. Luckily they were able to fit us in. We immediately began to wonder if they were as good as all the reviews we had read. Otherwise, how could one get reservations on the same day. Maybe we were right and the restaurant would not live up to their reputation as a top restaurant. Anyways, we headed over to Scarpetta for our 7 PM reservation only to get caught in traffic and then had to spent time finding a parking spot. If you are headed there, there is a paid parking lot directly across the street from the front of the Thompson Hotel. We were 20 minutes late as we entered the Thompson and cut through the lounge to find Scarpetta.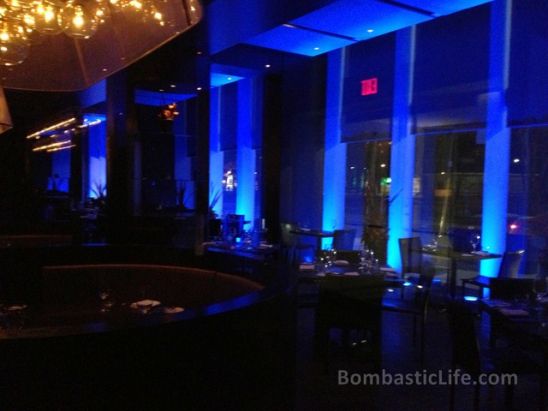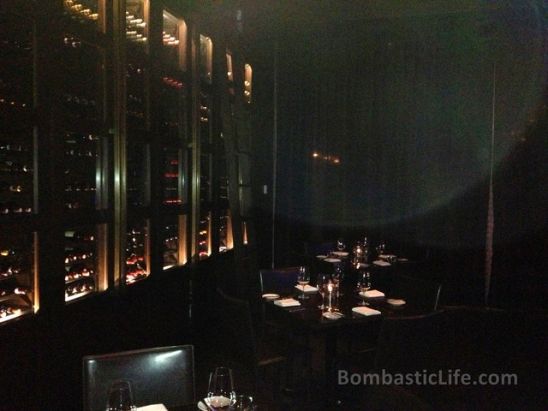 We were met just outside the entrance of the restaurant by a young lady who offered to take our jackets before showing us to our seat. Once seated, we were able to take in the ambiance and décor. Scarpetta had an elegant yet comfortable décor. Dark wood was the theme, along with textured walls, huge floor to ceiling windows along one wall and a massive wine cellar along the opposite wall. Along the center of the restaurant were two round tables set in half-circular booths which were perfect for parties of four to six. The crowd had a good mix of people from all walks of life, business people, young ladies together for an evening out, a surprise birthday party and a few sets of couples. As the night wore on, the decibel level started increasing.

Service at Scarpetta started out great right from the word go. The extra place settings were quickly removed and our cocktail orders were taken. A basket of bread and rolls, along with a delectable stromboli with cheese, apparently straight out of the oven, was placed in the center of our table for us to sample. A small tray of spreads and oil were provided as well. The olive oil had a fresh citrus taste. Truly remarkable!

The menu was well rounded with plenty and plenty of great sounding items. Yellowtail, Heirloom Beet Salad, Spiced Winter Squash Soup and Braised Short Ribs of Beef were a few of the appetizers that caught our eye. Pastas like Agnolotti Dal Plin (short rib and bone marrow), Spaghetti with tomato and basil (a house speciality), Pici (lobster) and Whole Wheat Tagliatelle with wild boar and whipped ricotta were making our mouths water. For a main dish, there was something for everyone; cod, bass and prawns for the seafood lovers and duck, chicken, venison, pork and beef for the carnivores. They even had a few vegetarian dishes.

Finally it was time for us make our picks and with the help of our knowledgeable server, we chose the Spiced Winter Squash Soup with goat cheese dumplings and farro for my starter and my partner had the Braised Short Ribs of Beef with vegetables and farro risotto. For our mains, I had the Tenderloin of Beef with roasted winter vegetables, chestnuts & foie gras emulsion while my partner had the Ash Spiced Venison with chestnut spaetzle, celery root & dried cherry jus.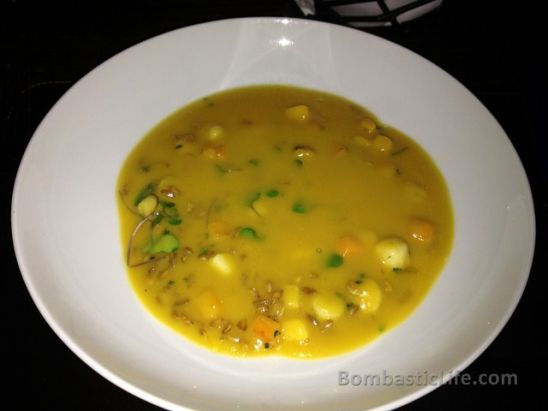 The soup was marvelous! I was imagining large goat cheese dumplings, but the soup had tiny little dumplings. And the spices in the soup were out of this world. I could eat that soup every single day for the rest of my life. The Short Ribs were tender and without any fat. Easily some of the best short ribs we have ever tried. All was perfect up to this point. We asked for a short break before our main courses and our waiter assured it wasn't a problem. About 15 minutes later he asked if he should have the kitchen "fire" our orders and we said yes.


A short time after that, two beautiful dishes were presented. My tenderloin looked amazing. My partner's venison looked equally delicious. I cut into my tenderloin, which was supposed to be medium rare. Alas, it was dry…surely this was not their version of medium rare, disappointing to say the least. I showed it to my waiter who hurriedly scooped it off my table and took it back to the kitchen. A minute later he was back letting me know a fresh one would be at my table in four minutes, which it was. During this time, my partner cut into his venison and while it was perfectly prepared, something was lacking flavor wise. Delicious, yes! But out of this world and bombastic? Not quite.

Once I cut into my new tenderloin I was sure I had done the right thing by sending it back. This one was absolutely perfect! This is what a $45 piece of beef should taste like! Aside from being tender, it was so full of flavor that even now as I write this, I am drooling just thinking about it! The memory of the vegetable that came with it is long gone, but the foie gras emulsion (think of a light gravy) was Fantastic Bombastic. Here was a dish that will go down in my book as a huge success.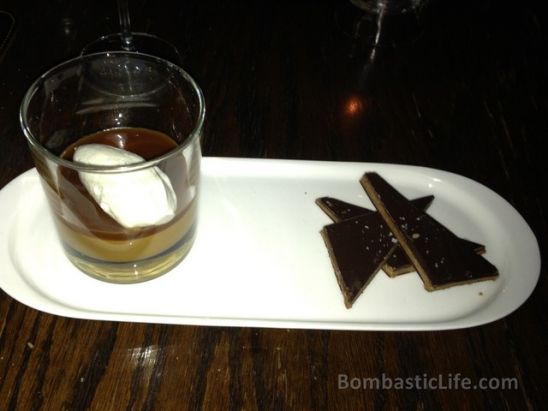 After these two courses we really did not have room for any dessert, but that has never stopped us before. Once again based on our server's recommendation, we ordered the Caramel Budino with salted caramel and peanut wafers. And once again, we were treated to a fabulous treat. Imagine a Reese's Peanut Butter Cup but a thousand times better with some creamy caramel. Delicious! Delicious! Delicious!

If you haven't figured it out by now, our rating of Scrapetta Italian Restaurant is a solid Bombastic. I don't know if Chef Conant was in the kitchen that night, but his art, talent and special touch surely were. If you are in Toronto, or headed that way, Scarpetta is a must for the best Italian fare in Toronto.
Share this article: