Let your friend know about Bombastic Life
Friend's name

Friend's email address

Your name

Your email address

Your note



Weslodge Lodge - Toronto, ON
Worth going to just to see the decor
Restaurant Category : Canadian
Weslodge Saloon - Toronto, ON: Located on King Street West in Toronto, Weslodge is a high end saloon style restaurant that serves fusion cuisine. A pair of huge yellow doors make it almost impossible to miss this place on King Street West. Reservations are highly recommended at this restaurant.



Share this review on Facebook.

Designed by Alessandro Munge, Weslodge Toronto reminds one of a 1930's inspired Western saloon. While the ground floor is furnished with vintage spindle chairs, armoires, rich banquettes and dark walls, the hallway upstairs is decorated with old snaps and newspaper clippings. The open kitchen separated with glass from the dining space adds to the visual treat. Old fashioned bar lights and a water-buffalo head hanging over the bar add to the old world charm.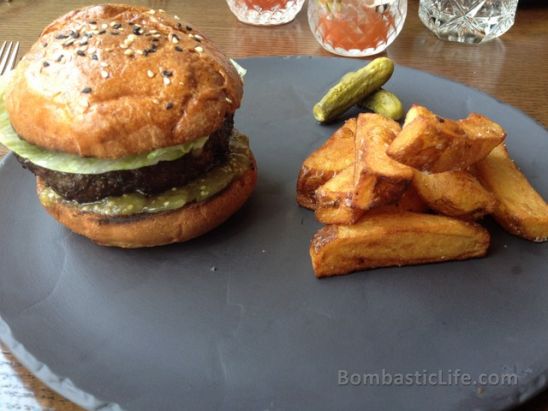 We stopped at Weslodge Toronto on a Sunday afternoon and the place was quite empty. We immediately grabbed a seat next to the large windows and checked out the menu. Since the menu was quite limited for a restaurant of this caliber, we decided to settle for a Weslodge Burger with Tomatillo Relish, Fontina, House Pickle and House Fries. While we waited for our burgers we sipped on a couple of Bloody Mary's which were delicious. Priced at $18, the Weslodge Burgers were just decent. There was nothing much to rave about. Service was decent, but then again there were only a handful of people in the restaurant at that time.

Overall, Weslodge Toronto is a good place to meet up for drinks and small bites. Now, is this a place I would rush back to? No, but this is a place I have gone back to with friends since I wanted to show them the beautiful décor. Weslodge is a cool place to hang out over some interesting cocktails. But with just a handful of starters and mains, this is definitely not the place for a leisurely dinner. Our rating for Weslodge Toronto is Almost Bombastic.

What I liked: The décor and saloon style ambience

What I didn't like: The limited variety of food

Rating: Almost Bombastic

Address and Telephone Number:
Weslodge
480 King Street W
Suite 113
Toronto, ON M5V 3M4
Phone: (416) 367-9000

Update – March 3, 2013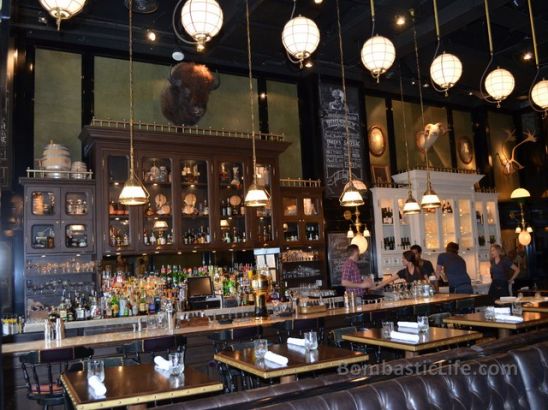 We headed back to Weslodge Saloon for their Sunday brunch. We took along some friends, anxious so show them the gorgeous interior of Weslodge.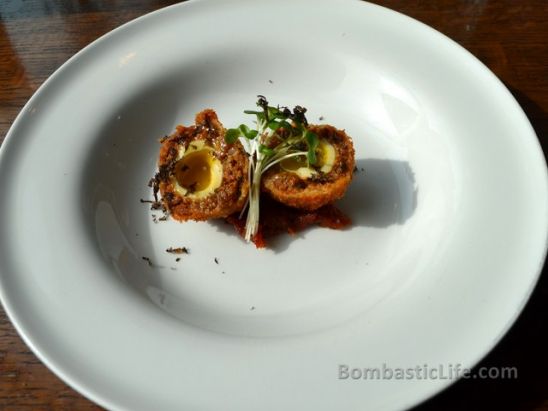 We tried more of their food and had enjoyed their food more than we did the first time; however service was very slow and unorganized. A few must tries are the Scotch Egg (Quail Egg with Chorizo, Tomato Jam and Black Truffle) and the Brioche French Toast.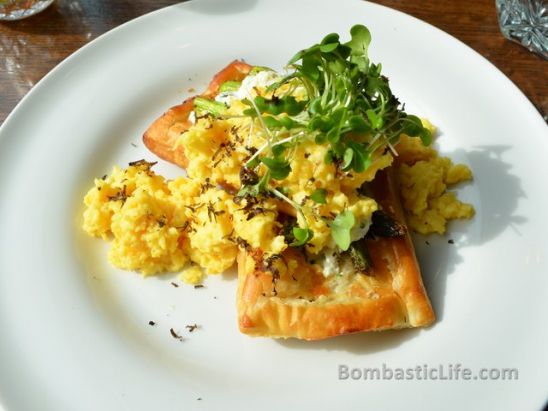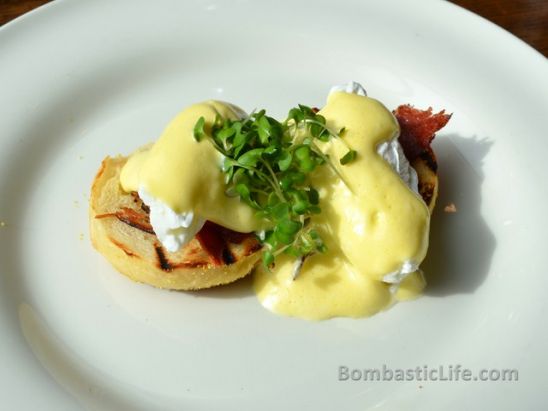 I had the Asparagus (Scrambled Eggs with Puff Pastry, Ricotta and Truffle) which was cold when it was served and my partner had the Eggs Benny with Lamb Bacon, Hollandaise and Mizuna. He really enjoyed it.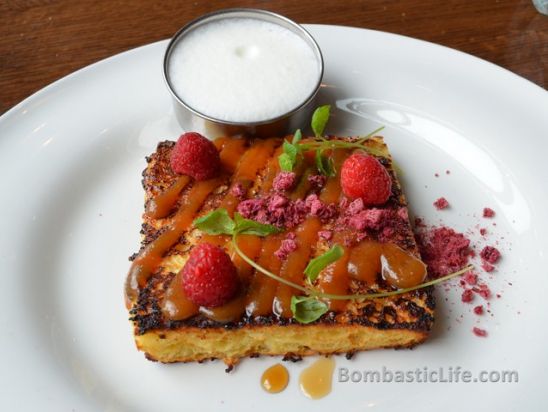 One thing that we all loved was the Brioche French Toast. This is a must have! Bombastic!!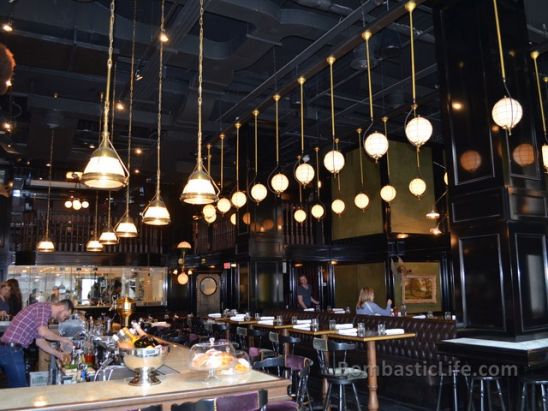 However, the atmosphere and décor still made for a very enjoyable brunch. After many visits back to Weslodge Saloon we have fell in love with the atmosphere and food, and we have changed their rating from Almost Bombastic to Bombastic! We love this place!

Join us on Facebook!
Share this article: