Let your friend know about Bombastic Life
Friend's name

Friend's email address

Your name

Your email address

Your note



Bent Restaurant -Toronto, ON
Even better than we imagined!
Restaurant Category : Asian (Fusion), Canadian
Bent Restaurant - Toronto, ON: If you are visiting Toronto, or just looking to do a Staycation in the city, there are a plethora of hotels to choose from. You could stay in the city or out in one of the many outlying areas of Toronto. Either way, the hard part won't be trying to find a hotel in Toronto , it will be choosing one! But if you are looking for GREAT EATS, then Bent Restaurant is the place!

Bent is located on the up and coming Dundas Street at Bathurst, a few blocks from Trinity Bellwoods Park. Owned by Susur Lee, this restaurant has been designed by his wife Brenda Bent and managed by his sons Kai and Levi Bent-Lee. Located in a pretty corner, this restaurant features large picture windows that let in a lot of sunlight.

Share this review on Facebook.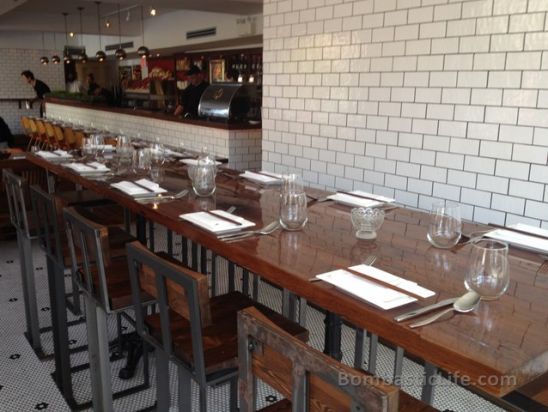 The Bent restaurant had a light and airy ambiance and a fresh décor. While white subway style tiles adorned two sides of the restaurant, the rest was covered with antique wooden letterpress trays filled with tiny collectibles. The place was furnished with vintage oak tables and wooden church benches. Large communal tables were available for large parties or filled with various dining couples. The bar consisted of a drink bar on one side and a raw bar on the other side. Behind this long bar a variety of sake was displayed as well as set of antique Pachinko machines. The bathrooms downstairs had been decorated with school photos from the 1960s and 1970s.

We called up early on a Saturday to get lunch reservations. Unfortunately they were open only for dinner. We then tried to book a table for two but all they had open was a spot at one of the communal tables or at the bar. We decided to opt for the bar as it would give us a bit more privacy. We arrived a bit before our scheduled time, which was fine as the restaurant wasn't too crowded yet. We checked if it was possible to get a table for two and rather than just say no, the hostess said "let me see what we can do". She even went and checked to see if she could somehow accommodate our request. I was impressed that she even tried! With nothing available, we headed off to our bar seats and settled in for what was going to become a great evening at Bent Restaurant.

Once seated, Conner, the young, enthusiastic bartender welcomed us to Bent and took our drink orders. I asked if the Caesar was any good and he said "absolutely". So I went ahead and ordered one and it was definitely good! The muddled cilantro in it gave it a neat kick! We were handed the menu soon after and were a bit surprised to see how small it was. We were actually expecting more options. Our server for the night told us about the menu and the special Bent-O Box that they had on offer. The Bent-O Box was priced at $35 for two between 5 and 7 pm and $42 for two after 7pm and consisted of a tasting menu of eight of their best seafood dishes. We ordered the Bent-O Box, but decided to do some Sashimi tasting first.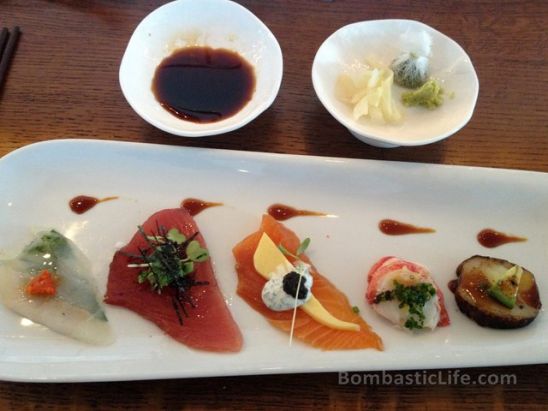 For the sashimi tasting, we were served Tuna with Fresh Grated Wasabi; Charred Scallop with Yuzu peppers; White Snapper with Daikon; Atlantic Salmon with Asian style Gravlax marinade; Medallion of Lobster with chives, roasted Argon oil, fresh black pepper, Calamansi lime and sea salt. This sampler was amazing to say the least.

Bent Restaurant Review continues, click here to go to Page Two.

Click here to go to Page One of Bent Restaurant Review.
Share this article: